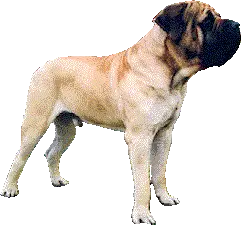 Kaiser suddenly left us on August 1, 2000 after a sudden attack of bloat. He is deeply missed. On this page you can read about Kaiser's four year long life as part of our family, as it was written before he passed away.
Kaiser was born on Aug. 29, 1996 in Gran, Oppland, Norway. His father was "S CH Moloss Rusty Nails at Mastinas", and his mother "N CH Pasvik's Fia". He went to stay with us in the city Kristiansand when he was eight weeks old.
Kaiser is both a family member and a friend. He's a very social and affectionate almost three years old mastiff. He weighs 196 lbs. (89 kilos), and is still putting on weight. Kaiser is a fantastic watchdog. Hopefully there is no stranger foolish enough to trespass Kaiser's borders. When Kaiser is guarding the house, it's more than secured. Plumbers, milkmen and people like that aren't very popular with Kaiser. They are strangers, and strangers are not welcome in this mastiff's world. It's as simple as that.
Kaiser is really enjoying life while being with his family and closest friends. Under such circumstances life is wonderful and relaxing. It's important to lay down as close as possible to where mum or dad is sitting. If not, Kaiser feels rather lonely and abandoned. He also likes to be with us during all kinds of meals. Begging could be charming from time to time, but with a giant dog like an English mastiff, drooling gallons of slimy stuff on the table, it's not the way you want to eat your dinner every day.
Visiting our cottage in the forest is like kingdom come for Kaiser. He simply loves to take a swim (or just to wade a ittle bit), going for a walk in the woods and spend lots of time with mum and dad. And, by the way, he never runs away. He doesn't even have to be told not to. Nothing beats walking slowly around the cottage, sniffing at the flowers and sleeping in the grass in the morning sun. Oh, yes. Life is great around the cottage.
So what about his personality? Well, Kaiser is very good with other dogs. He's not aggressive at all. Small dogs are his favorite playing-mates. He really enjoys meeting them when we're out for a walk. Maybe this is because he spent his first 6 months together with a Yorkshire terrier girl. The two of them became quite good friends, despite of the size-difference. But there's a limit even for a patient dog like Kaiser! He finds it acceptable that other males snare at him a little, but we all remember the time we had a Labrador/boxer mix in our house for a few days. After a day of dominant behavior from the visitor, Kaiser lost his patience. The poor 30 kilo dog definetely regretted his behavior when the fight was over. That day we finally understood that the mastiff once was a great warrior. There was no longer any doubt about it. The other dog survived, mainly because of my rather heroic (and stupid) interference in the fight. At least the local vet got something to do.
Kaiser has a problem with strangers. He's not happy about new people at all, and he's found a way to make sure he doesn't have to get to know them! This is especially true when it comes to men. We have been training him to accept strange men, but his feelings are hard to change on this subject. By all means, he has never hurt anyone in any way! The only thing that happens if a stranger comes to close to him (especially when there's some kind of eye contact) is that Kaiser barks very loudly with a very deep emphasis on the bass in his voice. The bigger the stranger, the louder the bark. All this is, of course, because he deep down is a bit frightened of people he's not familiar with. At least he's found a way to handle his fright without using violence, while still keeping his pride intact. A bit funny, though, that powerful dogs like mastiffs are afraid of anything at all…
Children are nice animals, Kaiser thinks. And very cute, too! A little bit TOO cute, you might say… When the playing around turns into a rather romantic affair, it's time to stop the game. Anyway, it's good to know that strange children don't make Kaiser react as he does with strange grownups. A child can pet him pretty freely. Kaiser doesn't mind at all.
The other day Kaiser had his debut as a bus passenger. He's always liked to be in our car (he almost has a religious relationship to that car!), so we thought there would be a fair chance that busses were alright, too. At first he didn't enjoy it at all. He cried a bit, and looked pretty depressed. Strange people coming and going, weird doors opening and closing with unfamiliar sounds. How could this possibly be a thing to enjoy for a dog like Kaiser? That's the way the story goes. When we got to the city and got out of the bus, Kaiser was quite relieved (even though he doesn't like the city, either). Anyway, a few hours later we had to go back home, and this time Kaiser didn't find it so terrible. He lay down on the floor and looked at me with an expression that was kind of saying, "Ok, I accept this new way of travelling, if that's what you really want…". Yes, mastiffs are a breed of habit, but they also know how to adapt to new situations! The only "small" problem we experienced during the drive back home, was what you might already have thought of: Kaiser's size. It's not easy to find room for a big dog like this on a bus. But, things taken under consideration, I guess we solved the problem pretty well. After this day, Kaiser and I have traveled by bus several times. By now he has become a quite experienced bus-passenger. He still doesn't find it amusing, but as long as he knows that driving a bus means he can be where I am, he finds it worth the trouble.
We have tried bringing Kaiser to dog shows. When he was six months old he got the price for being best in breed. This led to great expectations from our side, but the enthusiasm didn't last long. The fear for strangers developed as described earlier, and Kaiser just didn't let any stranger touch him in the ring. The last time we took him to a dog-show, he barked heavily at that scary, cruel man wearing a suit. So, we didn't get no champion-dog. But, to be honest, there are lots of things about a dog that is far more important than this, so we really don't think about it any longer. Kaiser is still our beloved boy, he's our watchdog and our loyal friend. As a member of the family he's a patient and good dog with lots of personality.
Kaiser kind of has a girlfriend, the brown Doberman Pinscher "Kine". She is living with grandma and grandpa, and it's such fun to visit her, especially when she's in the middle of the heat-period! (me oh my!!!).
In general there's nothing as interesting as meeting other dogs. Naturally puppies and bitches are the most popular ones.
Well, by the way, CATS are really interesting, too! Luckily enough he hasn't caught one yet, but people who think mastiffs are slow dogs would have changed their minds if they saw Kaiser chasing cats. He's repeatedly making new speed-records!
– – – – — – – – –
In rememberance of Kaiser the Mastiff – a very special creature…
Posted to the message-board, August 2, 2000:
I am so very sorry to inform you that Kaiser died last night as a result of a sudden attack of bloat.
Kaiser was the direct reason and motivation for the making of "MASTIFF-WEB, The Great Home of the English Mastiff on the Internet".
Kaiser would have celebrated his fourth birthday this month. During his rather short lifetime he became a local celebrity. Just a few months ago, one of the country's best selling weekly magazines printed a full page article with his story and three pictures of him. A couple of months before that, he also got a full page in a local newspaper that has about 30 000 daily readers. I know that Kaiser has meant something for others than ourselves, and this tragic event will probably make people we have never met feel sorry.
My wife and I will have a hard time getting over that our loyal friend isn't around anymore. He was a true friend, both to us, our family and to other dogs.
I felt I had to tell you the sad news, since Kaiser is so central to this web-site.
Please understand that it will be very hard for me to answer any e-mails about what's happened. We have suffered a great loss that will take time to get used to. Simply writing this post is hard enough…
My good hearted Mastiff is gone. He will never wave his tail nor put his head on my lap anymore… Love your Mastiffs while you can. They deserve it, and you never know when there's no more time to show how much you care…
– – – – — – – – –
We received more than 70 written condolances from all over the world the next few days after Kaiser went away. We wish to say thank you for all those comforting words and thoughts we received.